Funnel me this, funnel me that.
WHAT IS IT, WHAT IS IT FOR
Whole analogy of calling this system a funnel is a bit farfetched. A real-life funnel would just slide anything you throw inside to the bottom, but sales funnel is different, it has holes, therefore leaks leads. It might sound bad but it is a good thing, you could compare it to filtering gold from sand.
Concept of sales funnel describes a process of steps your visitors need to take in order to convert into a happy client. By either getting a sign up for a subscription or strictly a purchase, or any desirable end action.
Having a funnel is all about sending the right message to the right people at the right stage of the buyer's journey to generate — guess what? — sales!
Without the knowledge of how your sales funnel looks like, you won't be able to optimize any stage of the funnel for higher conversion rate.
---
FUNNEL STAGES
By creating a sales funnel, you will be able to map the buyer's journey, including what to do at every stage. The journey your prospect will take through funnel will be split into parts. Stages help you nudge leads down the funnel for conversion to occur. Unfortunately, not every visitor will buy your product on his first visit. Don't worry, though, that's part of the game.
Basic e-commerce funnel brakes into 3 stages:
Every stage has it's own characteristics and issues that might occur. Let's begin with the first stage.
---
❄️ TOP OF THE FUNNEL — AWARENESS STAGE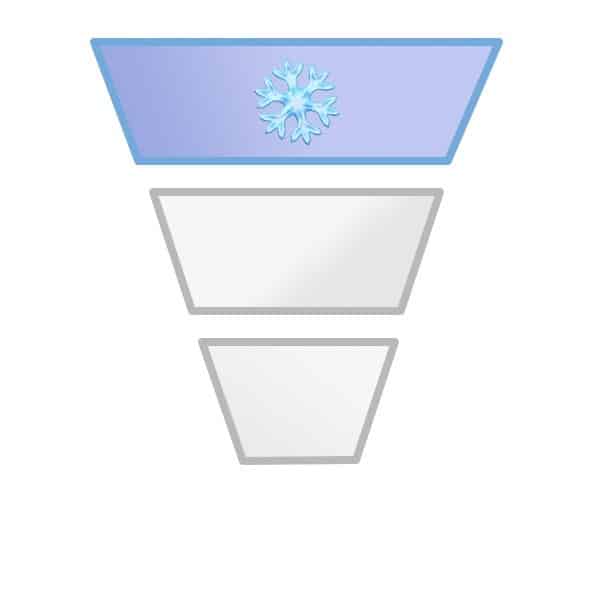 During this stage potential costumers become aware of your brand and your products. This is the first contact you make with cold prospects. Usually, they stumble upon your ad or discover your service through a blog post or video.
Because this is your initial contact with the potential customer, you need to avoid being salesy. Throwing product with a price tag at their faces at this stage is a big mistake.
Preferable initial contact should occur through a blog post which explains pain points your potential costumers could have. For example, a pet store could make a blog post about overweight cats and how to help with those issues safely without health repercussions for your favorite feline friend. Another example could be educating potential customers about what to wear with your favorite designer sneakers. All examples could be done in different content marketing forms, blog posts, videos or even webinars/live streams.
The main formula here is focusing on content that provides helpful information that people find valuable. Addressing pain points and persuading that your product is the best for them, is what you should strive for at this stage.
---
♨️ MIDDLE OF THE FUNNEL — INTEREST STAGE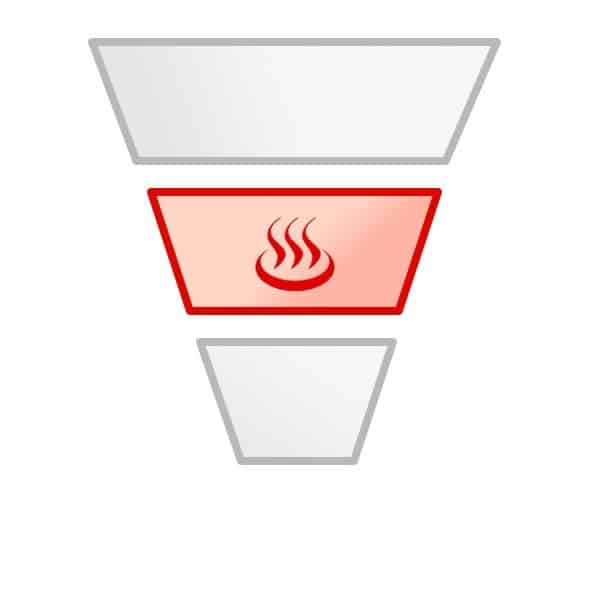 Now your potential costumers are interested in your products, they became your warm audience. Meaning they are browsing through your store or scroll through your lander.
The job at this stage is to make them initiate checkout or at least capture their email. So we can advance them even further down the funnel.
We can accomplish that by educating our leads, for example, use content made specifically for this stage of the funnel. It can be a newsletter — email sequence or an ebook ,etc.
Do not forget about keeping your store simple and easy to navigate. No visitor wants to be annoyed by full-screen pop-ups or auto-hiding menus or whatever hideous eye-burning thing you can imagine.
Keep in mind that your offer needs to be clear. Hard technical jargon or long sentences are not a place for a simple and clear message. CTA's, for example, "buy now" button needs to be visible and not hidden, fill the button with color that will pop out from the whole product page instead of merging with most of it, therefore be easily missable.
Speaking about product page, great product pictures are half the battle, the product description is also important. Copy needs to be clear and compelling, but do not make it all about features. Instead, try to build a desire in your potential clients by focusing on the benefits of the product instead of listing features and ending it on that.
To build more credibility in the eyes of a consumer, include reviews of the product on the product page, to further build social proof you can use "user-generated content" there as well. Meaning adding pictures of clients who already bought the product and showcase it really well on their photo, usually uploaded on Instagram or other social media site.
The general point during that phase is about providing entertainment through education while giving potential costumers value, that will keep them interested and nudge them down the funnel to next stage.
---
🔥 BOTTOM OF THE FUNNEL — DECISION STAGE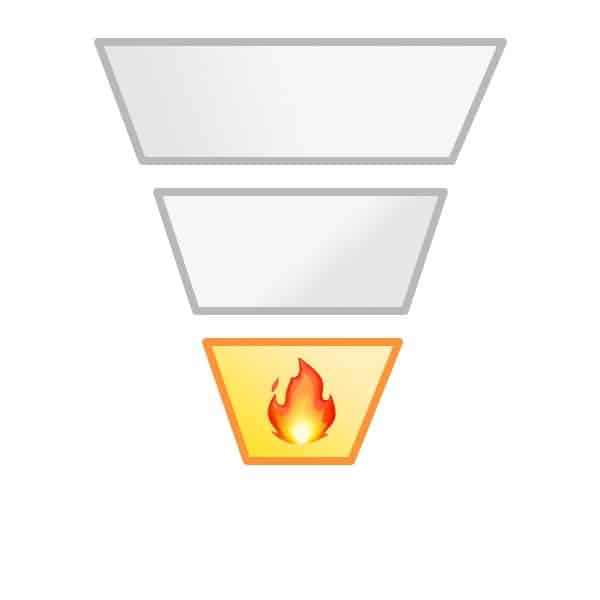 This is the place where consumers are considering pulling the trigger and buying your product. They became a hot audience, and to give them an additional nudge we can show them testimonials of happy clients who loved your product. Trust badges give more legitimacy to the site as well, e.g. showcasing how secure the site is and guarantee money back if the product doesn't meet customer expectations, can make a difference.
Retargeting ads are also your friend at this stage, 'gently' reminding a potential customer about products they've seen and almost bought. These type of ads are also handy in upselling customers post-purchase.
For the final push, presenting a discount for the first purchase can do the job, and convert those people into proper buyers. This kind of discount usually can be presented as triggered exit-intent non intrusive pop-up.
Be careful about giving discounts to every abandoned cart, at least don't do it instantly. Throwing out discount codes for everybody will make your clients only buy when they get the discount. A far better solution would be to do a timed email sequence with a reminder about products waiting in the cart, with a splash of urgency. First mail should be sent during the day when customer abandoned a cart with a message about low stock etc, next one 3 days after it, last 6 days after. Only then you could give that final incentive with % code. Do not forget to always add strong incentive or urgency in your abandoned cart sequence.
During checkout, you also can offer an upsell or cross-sell to bump up your AOV. Adding a message like "add x more to get free shipping" or "order today for a free sample included with order" can nudge prospects to order more products.
To ensure a smooth flow, we can optimize the path between adding to cart and placing a payment. So the experience will be painless. The fewer steps, the better.
---
💸 POST PURCHASE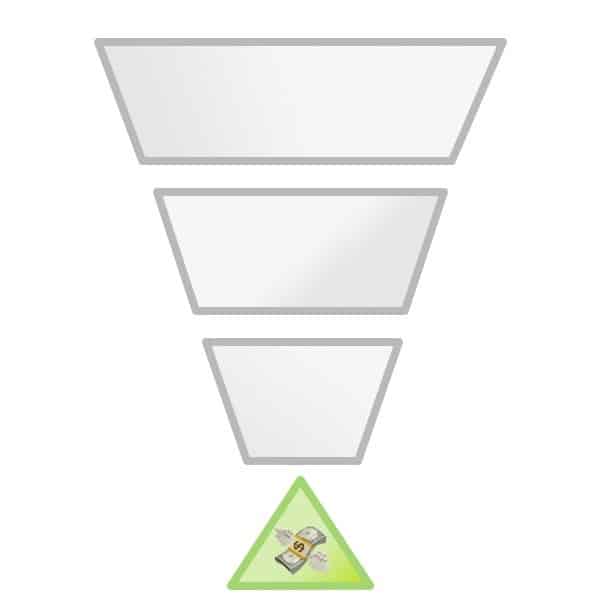 Most of the fresh e-commerce shops forget about people who already purchased a product.
This part of the game can be summarized by a statement 'make them return and buy again'. The truth is returning customers are more likely to spend even more on a purchase, compared to first-time buyers.
By customizing "thank you" page which loads after purchase, you can communicate and assure your new client that their decision was right indeed. Bet on something unique, like gifs or animations that signify gratitude.
A pinch of social proof in the copy or even image, won't hurt either. Just highlight that your new customer is the newest addition to thousands if not millions already happy customers 🙂
Don't forget about personalizing the post-purchase email with another unique "thank you" message, maybe even infographic/video/manual of the product that was just bought by them. Something that will make their time more pleasant, while waiting for the package with the goods to arrive.
This is also a great place for another upsell, post-purchase upsell to be exact. You could highlight a product or form a special bundle of products just for this occasion, something that accompanies or even amplifies the product that has been bought already.
You should track your retention, as calculating your customer lifetime value metric (LTV) is a must. It projects the revenue that customer will generate during their lifetime as your customer. On the other hand, there is also AOV. It stands for an average order value that a customer places in your store. These metrics (and many more) help you analyze if the store is profitable and growing as well as singling if something requires improving.
---
SEGMENTATION
It is something that is too much uncommon in some areas. Imagine showing an ad that is specifically created for hot audience, to cold audience which didn't even know your brand existed. Chances for that conversion are much lower than showing a hot ad to the hot audience which is already on decision stage, ready to buy.
To the rescue comes segmentation of your audiences as well as the exclusion of audiences at the particular buyer's journey stage. It's worth to look at the traffic sources, age, location of your audiences and segment them. For example, create an ad that caters more to the young audience if you see that large chunk of visitors is 16–25 years old. Another example, you notice some portion is based in Germany, it is worth to localize your creative and copy to test that audience.
You probably can place yourself in this scenario, some time ago you bought a product and you keep seeing dynamic ad for it, that keeps following you across the internet. Why? Because somebody didn't exclude people who already purchase from the retargeting campaign.
All it takes a little bit of work, for less money wasted on pointless campaigns.
---
CONCLUSION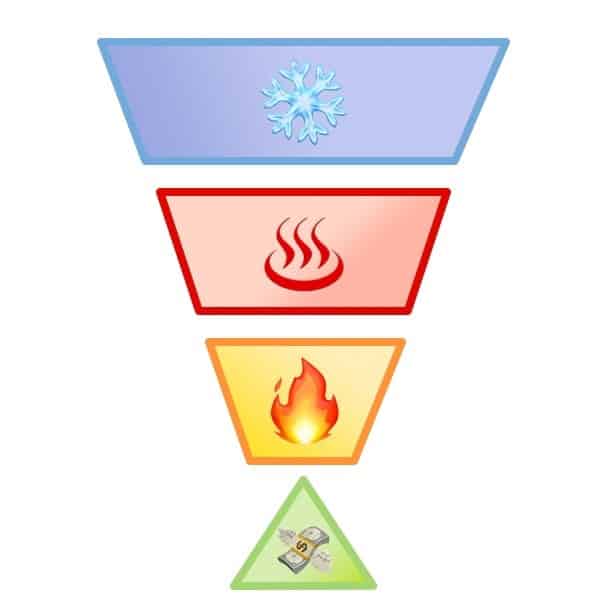 To build a quality customer experience, you need to follow your buyer's journey. It will translate into the healthy long-term e-commerce business. Every potential customer will go through a funnel, some of them might go slower through stages, other faster. The key here is to keep optimizing your sales funnel, while not neglecting any stage of it. Data you collect will help you get repeat sales through interest-based offers, that you discover by testing and optimizing.
---